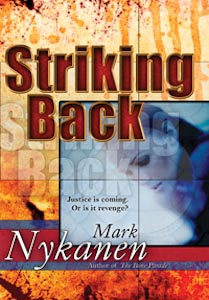 Author's Comment:
Striking Back was another departure for me, a mystery/thriller set in southern California. I'd never written a mystery, and I had no idea when I started the book that it was going to be one, but that's how the story unfolded. I really enjoyed the southern California setting, having lived in Hollywood while I wrote and directed segments for a show for Paramount. I also enjoyed revisiting the beaches, where I made many hapless–but happy–attempts to surf. While I windsurfed big waves when I lived in Maui, I never became nearly as adept as a surfer. But it was a lot of fun. So was writing this book.

Mark Nykanen
Praise for Mark Nykanen's Striking Back:
"This is a terrific amateur sleuth-police procedural as the beleaguered heroine refuses to be a victim again. Although the story line goes down the path anticipated, the key to making this a strong thriller is the diabolical villain who cleverly remains in plain sight and has the ability to change plans when needed. With an underlying plea to victims to get help, readers will relish Striking Back as Mark Nykanen provides a gripping whodunit."

Harriet Klausner, The Mystery Gazette.
Publisher's Comment:
These men like to hurt women. Now it's payback time for an unknown murderer, who's slaughtering the abusers in ways that mirror the ugly violence they forced upon the women in their lives. As the death count grows–and media interest explodes–innocent people could get caught in the killer's revenge.
Los Angeles therapist, Gwyn Sanders keeps her ugly family history to herself. More than twenty years ago, when she was still a teen, her violent stepfather died a grisly, mysterious death. Gwyn knows all the secrets but she's not talking about the past–she's too busy trying to change the future by breaking the cycle of domestic violence. The men she counsels aren't saints, but maybe she can change the mindset that makes their lives–and the lives of the people closest to her–so miserable.
When someone starts killing her controversial clients, Gwyn becomes LAPD's primary suspect. After all, there's the unsolved mystery of her stepfather's bizarre death. Maybe Gwyn has a hidden desire for justice that's far from therapeutic.